With the Handicap Calculator, you will be able to easily determine your handicap by adding existing rounds saved in the Hole19 app or by adding new scores.
This feature is available with Premium PRO. To start, open your Hole19 app, tap 'Performance' at the bottom bar, and select Calculate Handicap. Now you can 'Get Started' and add your first rounds either from your existing ones saved in the Hole19 app or by adding the score.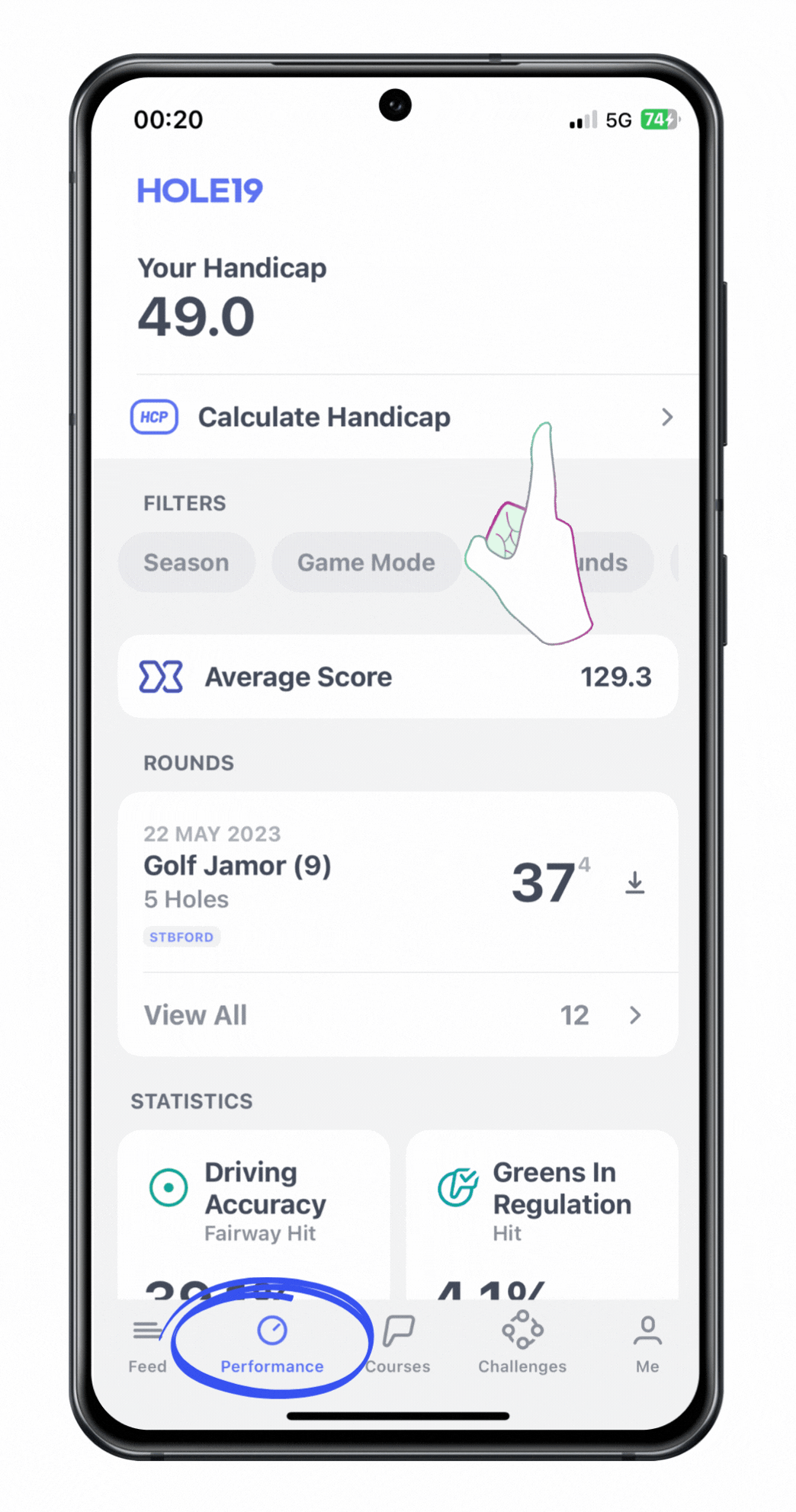 If you already saved rounds for handicap before, you won't see the third screen above. Instead, you'll be presented with a list of rounds eligible for handicap calculation. If you want to change these, please tap on 'Add Round' > 'From existing Rounds' > Toggle ON or OFF the rounds and when you're done > 'Update Rounds'.
If you never added handicap rounds before, after tapping on 'Add Round' you'll be presented with two options: add From existing rounds or Add Score.
1. From existing rounds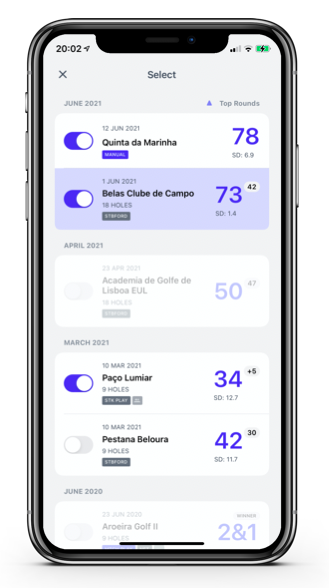 Toggle ON all the rounds (up to 20) that you want to be considered for handicap. Tap 'Update Rounds' when you're done.
2. Add Score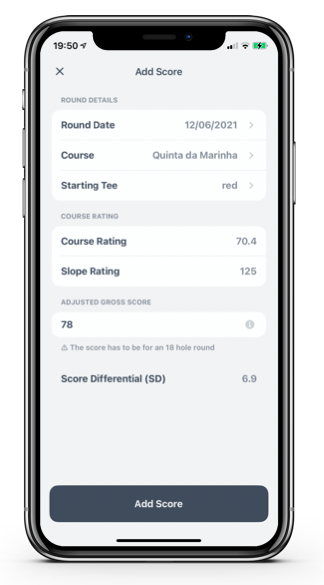 Fill in all the round details (Round Date, Course, Starting Tee). After doing this, the app will fill in the course rating automatically. Please make sure it is correct, if it's not, send us a message at mapping@hole19golf.com and we'll do our best to help! Finally, please make sure to add the Adjusted Gross Score and bear in mind that the score has to be for an 18-hole round. Once you complete this last step, a Score Differential (SD) is given so that you can 'Add Score'.
- The score will be added to the 'calculate' screen if it is one of the latest 20 handicap rounds. If the added score is in the 20 most recent handicap rounds, then the oldest round is dropped from the rounds list on the calculate screen and the added score will be counted in the handicap when you tap 'Calculate'.
- All added scores will be shown in the rounds list from the Performance section and in the From existing rounds list in the calculator.
- Please note that added scores are not editable and will not have a round summary page.
The more rounds you add (up to 20) the more accurate your handicap will be. When you're ready tap Calculate and there you go! Your Pro Handicap is ready. You can tap 'Update Profile' so that your handicap is automatically reflected under your profile or you can tap the arrow at the top-left corner to go back.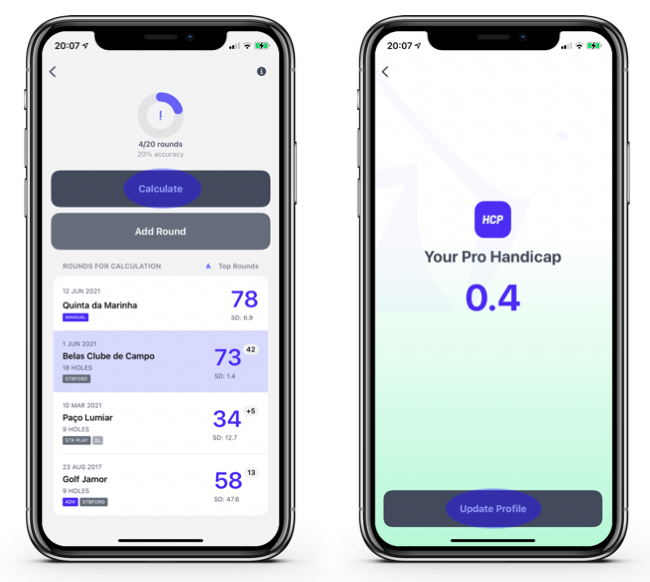 Please note the PRO handicap you'll be receiving in the calculator will not be the same as the official World System or any other handicap systems. When 9-hole rounds have a different SD on Hole19 is because we calculate an SD for a single 9-hole round. The World System rules state that two 9-hole rounds should be combined to have an SD for an 18-hole round.
If you still have questions, please keep reading, otherwise... Happy Golfing!
- Tiers of rounds that are averaged together to get the Pro Handicap: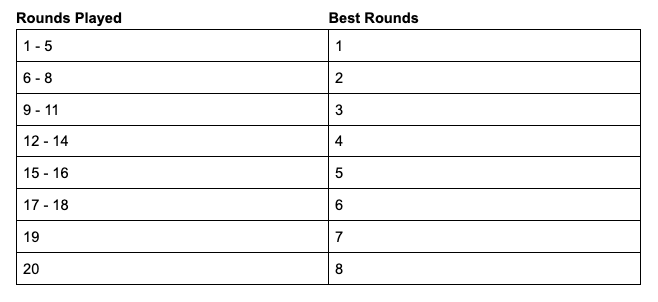 - How many rounds do you need to add to receive a Pro Handicap?
We require only one eligible round.
- When adding my scores 'From existing Rounds' why are some rounds highlighted and others are not?
Only rounds that are eligible for handicap purposes will be shown in that list:
Match Play rounds will not be included
GPS only rounds will not be included
Incomplete rounds will not be included
- What is the Adjusted Gross Total Score?
Adjusted Gross Score is determined by the maximum number of strokes you can post on a hole based on your Course Handicap. The maximum limit on each hole will be Net Double Bogey, calculated like this:
Par + 2 + Handicap Strokes Received
For example, if you have a Course Handicap of 7, and you score an 8 on a Par 4 that's the 7th hardest hole on the course, the score for that hole would be adjusted down to a net double bogey of 7. 4 + 2 + 1 = 7
Net Double Bogey: Double Bogey plus any handicap strokes we would have on a given hole
Net Double Bogey: Net Par + 2
- Your Course Handicap
Indicates the number of handicap strokes you receive based on the Slope Rating and an adjustment for Course Rating minus Par for the selected tees.
- Your Playing Handicap
Is the actual number of strokes you receive or give during a round and is the number used for the purposes of the game or competition.